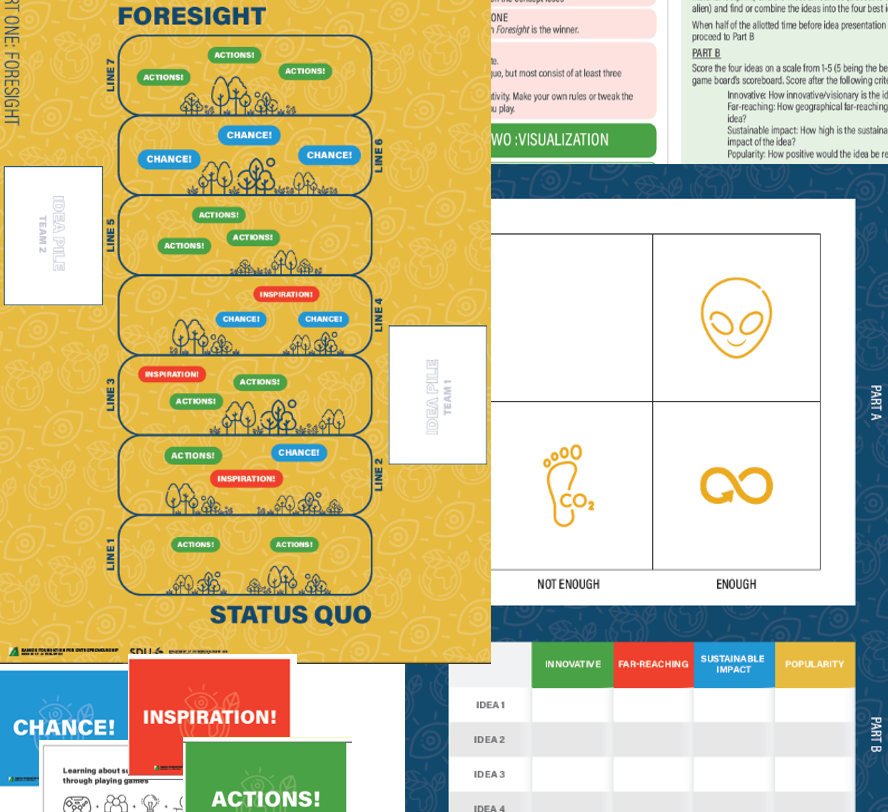 Foresight & Visualization
Foresight & Visualization offers a creative, thought provoking and fun approach to sustainable entrepreneurship education. It is all about brainstorming sustainable ideas, envisioning, and developing entrepreneurial concepts for a better sustainable future.
From cards describing different kinds of cases and situations, the game calls for ideas to action, and the subsequent evaluation of their ability to create lasting sustainability.
The game is focused on the UN's Sustainable Development Goal 12: Responsible Consumption and Production. But foremost it boosts and trains divergent idea-generating processes and subsequently enact convergent idea evaluating-processes – in a fun and inspiring way.
Here you will find all necessary instructions and materials to use the game
NB printing guide: The game is created as an online PDF version that can be downloaded and printed. Print the Game Boards in A3, the Rules – Quick Guide for the Players in A4, and the Playing Cards in A4 as two-sided printing with Short-Edge Binding.
Have a good time with your students
If you have any questions feel free to contact
Cæcilie Østergaard Knudstorp cok@sdu.dk or
Suna Løwe Nielsen sso@sam.sdu.dk